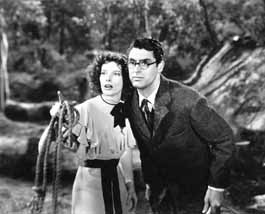 It's a drab, rainy day.  This kind of weather can drag me down, until I remember it's a great day to bake cookies and pop in an old, black and white movie!
I love black and white movies! Why? Well, here are some reasons:
Great acting! Think of those long scenes with pages and pages of dialog to be memorized, and no cuts. Those old Hollywood actors were really talented!
Virtually no cursing or inappropriate scenes!
Women wore hats and gloves! Need I say more?
Jimmy Stewart and Cary Grant!
The good guy always won, got the girl, etc.
Most of all, they're just classic! So here are my "Top Ten Favorite Black and White Movies" (Most of these are comedies with happy endings, unless otherwise noted.)
1. Bringing up Baby…Cary Grant and Katharine Hepburn get into one predicament after another (Grant rather reluctantly) while trying to transport a tame leopard to the country. Some of the most rapid-fire dialog and funny lines of any old movie I've seen. My entire family loves this one!
2. The Philadelphia Story…More serious plot, but mixed with comedy, an Academy Award winning performance by James Stewart…and it also stars Grant and Hepburn…movies don't get much better than this!
3. Mr. Smith Goes to Washington… classic Jimmy Stewart, "David and Goliath" type of story about a small-town man appointed to fill a US Senator's spot who takes a stand against political corruption. This one is actually not a comedy but a drama. Jean Arthur plays the leading lady. Directed by Frank Capra.
4. You Can't Take it With You… a little-known Stewart/Arthur film, also directed by Capra. Heartwarming, slightly corny, and sweet. I love Ann Miller as Essie, the clumsy-ballerina sister. She was actually a talented dancer in real life!
5. Another Capra/Stewart combination…everybody's favorite Christmas movie It's a Wonderful Life. Frank Capra reportedly wanted Jean Arthur for the role of Mary Bailey but couldn't get her. I have to say that although Jean is one of my favorite actresses, Donna Reed did a splendid job.
6. The Bachelor and the Bobby Soxer probably has the corniest plot of all the movies on this list. Cary Grant plays a misunderstood artist who is "sentenced" to date the teenage sister of the judge who condemns him. Silly plot out of the way, this movie is cute, funny, and full of great actors… including Grant, Myrna Loy, and the teenage Shirley Temple.
7. My Favorite Wife… on the day of his wedding, Cary Grant's supposedly dead first wife shows up, complicating matters in this romantic comedy. Irene Dunne plays the first wife. Her spunky personality is the reason she's #1 on my list of favorite actresses. The plot is far-reached, but the characters are cute and the scenes are funny.
8. Mr. Blandings Build His Dreamhouse…if you've ever bought, built, or fixed up a house, you will find this both funny and painfully realistic! Starring Cary Grant and Myrna Loy.
9. All Fred Astaire movies have excellent dance numbers, but Top Hat is the one I've most recently seen, so I'll plug for it. It has a cute plot involving a misunderstanding between Fred and Gingers' characters, and also features the classic number "Dancing Cheek to Cheek."
10. It Happened One Night features Clark Gable as a reporter trying to get his big break by capturing a story on a runaway heiress, whom he's trying to "help." Gable falls for the heiress, played by Claudette Colbert, complicating matters in what is known as "screwball comedy." Many people list this as one of the funniest movies ever, and while I did enjoy it, it's not as funny as #1 on this list, which I recommend you watch asap.
Now for the cookie recipe: I remember my mom making these more than any other cookie when I was little, as we always had all the ingredients on hand! The wonderful cinnamony smell wafting from the oven and hot, buttery cookies combined with a tall glass of cold milk make any "drab" day much better!
Snickerdoodles:
1 1/2 cups flour
1 teaspoon baking powder
1/2 cup butter, room temperature
1 cup granulated sugar
1 large egg
1/2 teaspoon pure vanilla extract
Coating:
1/3 cup granulated sugar
2 teaspoons ground cinnamon